Waterproof Luxury Vinyl Flooring
The experts at Carpeteria Carpet One Floor & Home in San Diego and San Marcos can help you find the best waterproof flooring option for your home. Most luxury vinyl comes in water resistant options, but there is also a wide range of totally waterproof options as well. Knowing the difference between a waterproof and water-resistant floor can make a huge difference in your purchase decision, and can also open you up to considering changing the flooring in multiple rooms of your home. Waterproof flooring is the ultimate choice when it comes to durability, and with advanced technology you can still have the authentic look of natural flooring.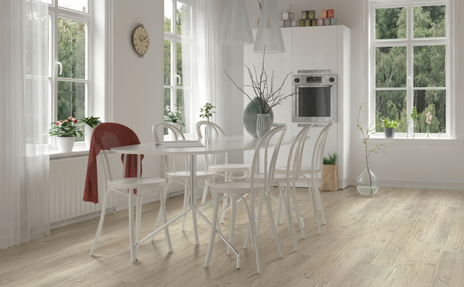 What makes Luxury Vinyl Waterproof?
It is important to not mistake a water resistant floor for one that is waterproof. It is not a fun surprise to find out too late that your waterproof floors are not in fact waterproof at all. A majority of luxury vinyl floors feature some sort of moisture resistance on the surface. Water-resistant floors repel moisture from the surface eventually soak it up and it will cause damage to your subfloor. Water resistant flooring is best for areas you are in a lot so you do not forget about them.
Waterproof flooring creates a watertight barrier at the surface of the floor. If moisture does make it past the surface, the core of the planks or tiles will allow the moisture to evaporate and stops it from reaching your subfloors. Unlike hardwood flooring or any other flooring types, waterproof luxury vinyl floor won't buckle, crack, or warp due to being exposed to moisture.
Where can you Install Waterproof Flooring?
If you have indoor pets in your home, then waterproof flooring is the ideal choice for your household. Occasional pet accidents happen, and you cannot always get to them right away, so waterproof flooring takes away the worry of your floors being damaged by unexpected spills.
You can install waterproof luxury vinyl flooring anywhere in your home including the kitchen, bathrooms, laundry room and even entryways. Since luxury vinyl comes in such realistic options, you can also get away with installing it in bedrooms and living rooms. Waterproof luxury vinyl flooring comes in a floating installation or a click-lock installation. Floating floors are the most popular choice because they are quick and simple to install and can be walked on the same day.