No flooring is more timeless and classic than hardwood flooring. But just because it is classic doesn't mean it's only an option for an elegant, timeless space. Hardwood floors create a beautiful backdrop for any style room, thanks to their natural beauty. From rustic to modern and any style in between. Hardwood floors' specific characteristics make them more suitable for one style or another. Before you choose the right hardwood type for your home, here are a few basics to review:
Solid or Engineered Hardwood?
When looking for beautiful classic hardwood floors to fit any space in your home, it's always good to understand the differences between the types of hardwoods before you shop. A solid hardwood floor is just what it sounds like. Each piece is a single piece of wood in a long plank. It is the simplest, purest form of hardwood flooring. Solid wood flooring is typically made of wood species such as oak or maple. It can be sanded and refinished to change the look without installing a new hardwood floor. This is ideal for someone who wants to get more than just one style out of their solid wood flooring.
Engineered hardwood is still made entirely from wood. The difference is that it is constructed from three to five layers of wood laminated together with grains running at different angles. The top layer is the wood layer that you see. Engineered hardwood flooring offers certain characteristics that solid wood flooring does not. An engineered wood floor is more durable and structurally sound, so that it can be installed in moisture-prone areas, such as basements and bathrooms.
Colors of Hardwood Floors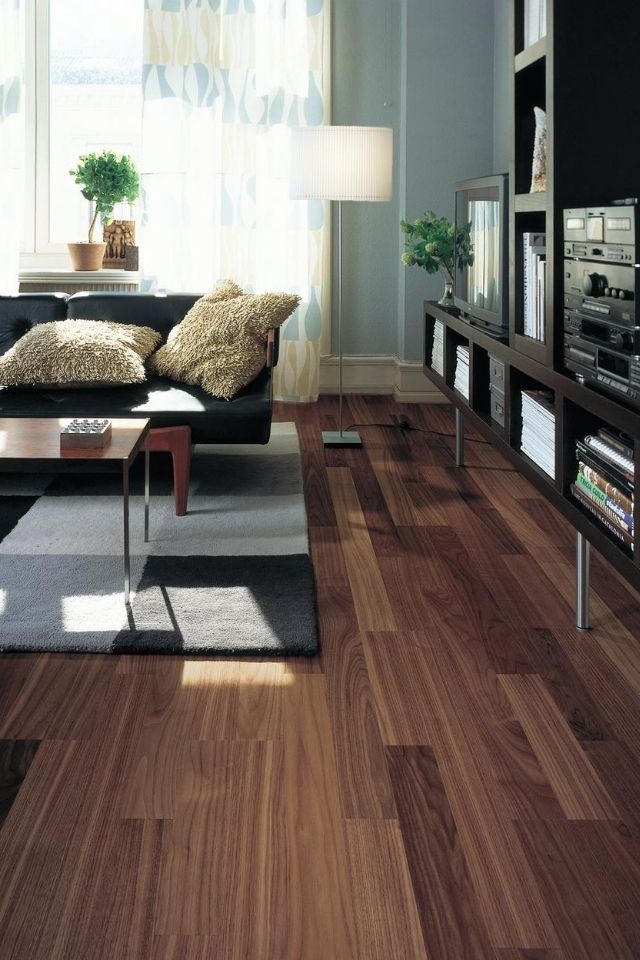 The hardwood stain color you choose can significantly impact the look of any space and help create a beautiful backdrop for the rest of your interiors. Certain stain colors tend to complement specific design trends, so it is essential that you consider your personal taste and style when choosing the right hardwood stain color.
If your home leans more towards a contemporary style, you'll want to look at very different hardwood floor colors than someone with a more traditional approach. Before you make any decisions about the color of your hardwood floors, though, you should first be in tune with your own personal style. Are you always keeping up with the trends? Are grey and white a staple in your home, or do you love a bold pop of color? Do you consider yourself a minimalist, or would you consider yourself a minimalist if it weren't for the copious plants and natural elements you've brought into your space?
You probably have a modern design style if any of these sound like you. To find a floor that compliments the modern style and décor in your home, you'll want to look at either very light or very dark hardwood floor colors. Extremely light or dark flooring is the perfect way to add contrast to your monochrome style or carry it into your hardwood floor color choice.
Now, if you're more traditional, it's likely that your space will look a little different than those mentioned above. Traditional décor combines elements from history and the natural world to create an elegant, comfortable space that makes you feel right at home. Warm neutrals are a staple of traditional design, and this carries over into the best hardwood floor color for your space. Unlike modern design, traditional design trends tend to avoid extreme light or dark, instead focusing on keeping things neutral and comfortable. Therefore, medium-tone hardwood floors, like honey or cherry, work well with more traditional styles.
Of course, there are always exceptions to these rules, and the only way to truly find the best hardwood floor stain color for your space and style is to look for yourself. Check out our catalog's gorgeous hardwood floor colors – light, medium, and dark.
Species of Hardwood Floors
Perhaps the most important indicators of the floor's appearance are the wood species and the stain color. The wood species will determine the characteristics of the hardwood floor grain that you see through the stain as well as the performance of your floor (especially if it's a solid wood floor). Let's look at the three most popular wood species – oak, maple, and hickory:
Oak is hard and durable. It has a prominent grain so that you will notice distinct markings and a wide variation in pattern from piece to piece. Oak is easily stained in many colors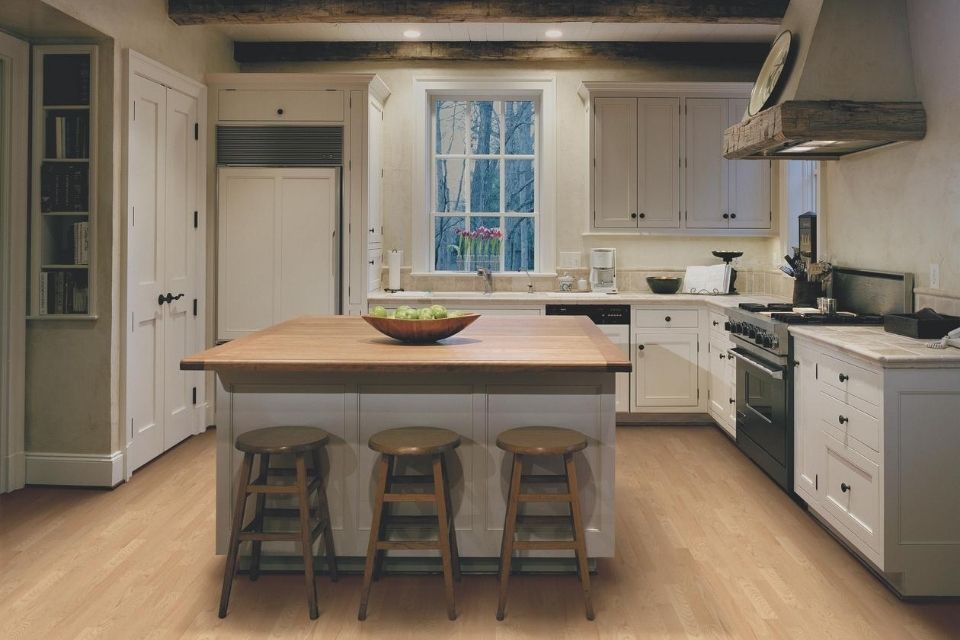 Maple is not quite as hard as oak but is still a great floor option. Maple has a more even grain, and its light color stains well.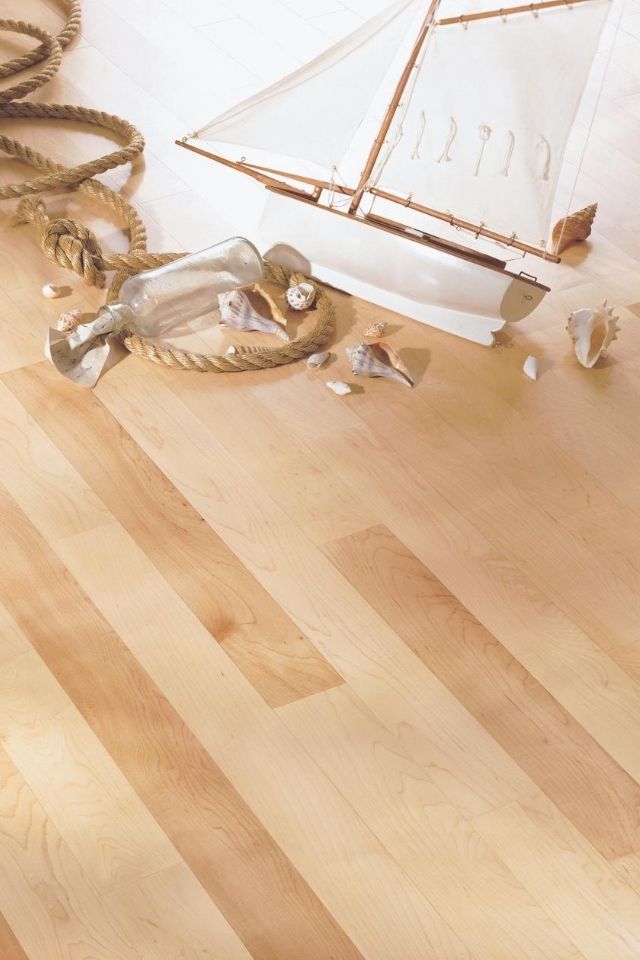 Hickory is one of the hardest and strongest woods. Hickory has a grain with a prominent contrast of light and dark colors. The grain will be very distinct, especially with a light stain.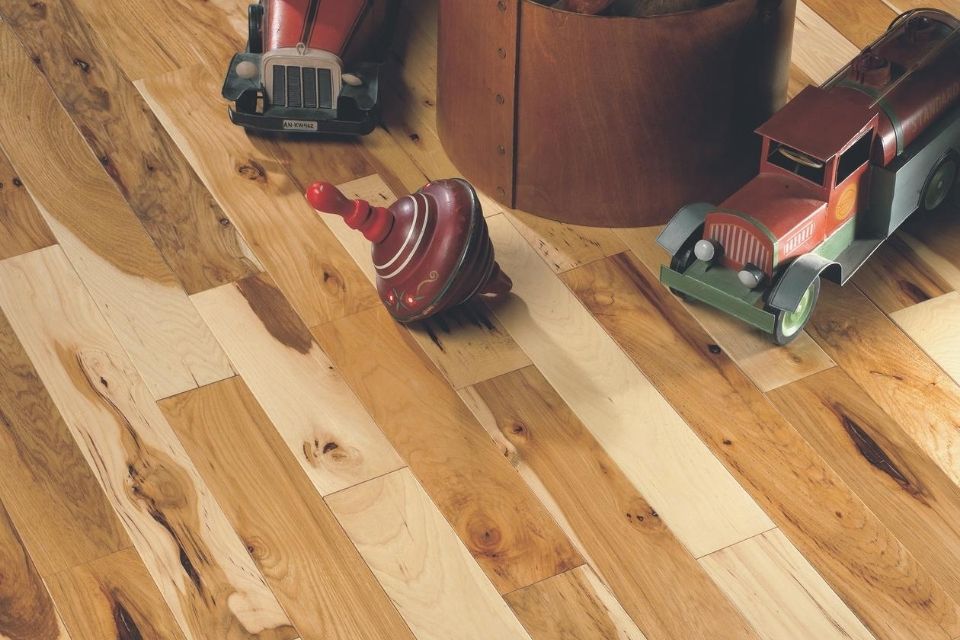 Wood Plank Size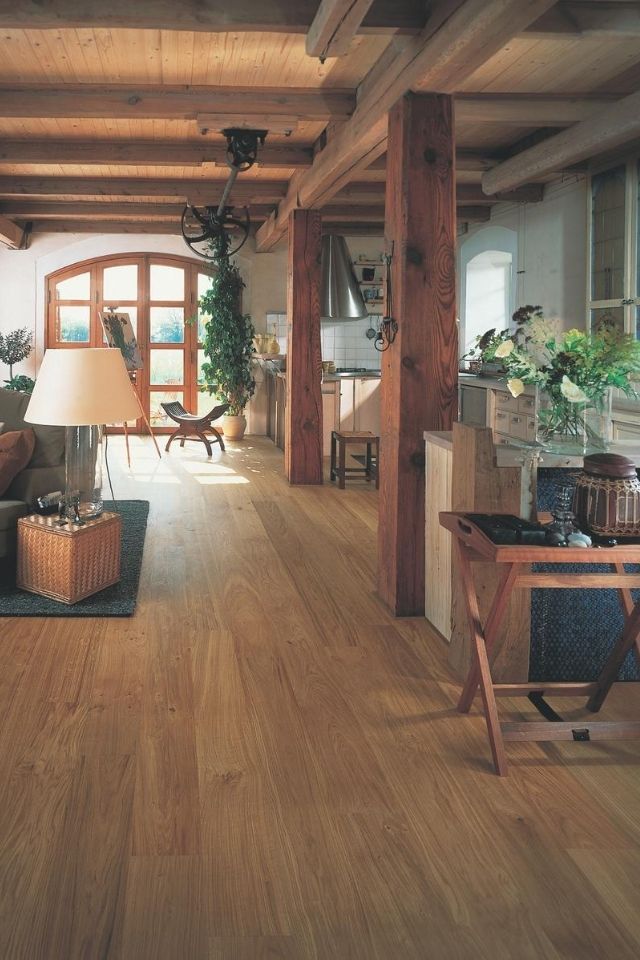 Plank size refers to the width of each piece of wood on your floor. Plank sizes vary from 2-1/4" to 6" and wider. Narrow planks (or strips) have a more traditional and formal look. They also can make a small room feel larger. Wider planks are a little more casual and rustic. If you want to make an ample space feel more intimate, wide planks may be right for you.
Low v. High Gloss Hardwood Floors
Do you want your floors to have that shiny, wet look or something a little more matte? A polished look will be more formal, while less gloss tends to create a more casual look.
This high gloss floor fits well in a more traditional home. High gloss hardwood floors bounce light off the sheen, making the room look brighter. A low gloss floor looks great in a more casual space. It's also more natural and ideal for achieving the perfect rustic style. Matte hardwood floors hide scratches, making them perfect for homes with pets and kids.
As you can see, there are so many different hardwood styles you can create with a beautiful hardwood floor as your base. Whether you want the perfect modern, contemporary, rustic, or traditional home, there's a hardwood flooring option out there for you.
---
Ready to shop? Browse our curated selection of hardwood flooring online. Or, are you ready to start the conversation with one of our flooring experts? Contact us today.